Please note that VIP membership is not the same as a web order account. To shop online and enjoy your VIP discounts and earn loyalty points, please register a web account and link your VIP membership.
Step 1: Register account
To register for a web order account, you'd have to register for a web account and you could also link your VIP membership to enjoy further discounts.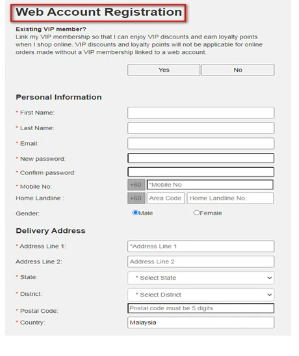 Step 2: Activate your account
After you have successfully registered for the web order account, you would need to check your email inbox and click "Activate your account"
Step 3: Log in to web order account
If you are unable to log in to your web order account, please click the 'Forget your password?' link and enter your email address. An email will be sent to you to reset your password.